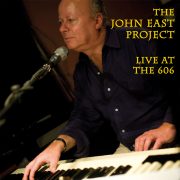 Mark Fletcher – drums; Neville Malcolm – bass guitar & double bass; Carl Orr – guitar; Max Grunhard – alto sax; Scott Baylis – trumpet, flugelhorn & piano; John East – vocals & Hammond organ.
Recorded at the 606 Club, Chelsea, London SW10 on 13 July 2011. Mark Fletcher plays Regal Tip sticks/brushes and Zildjian "K" cymbals. Recorded, mixed and mastered by Chris Lewis. Produced by Paul Bailey and John East. Photography by "Chalky" Whyte. Artwork by Robin Springall. Made and printed in England by Repeat Performance Multimedia.
Download from iTunes, Amazon and, at CD quality FLAC, from Cdbaby. And streaming from Spotify, Deezer, and, at CD quality FLAC, from TIDAL.